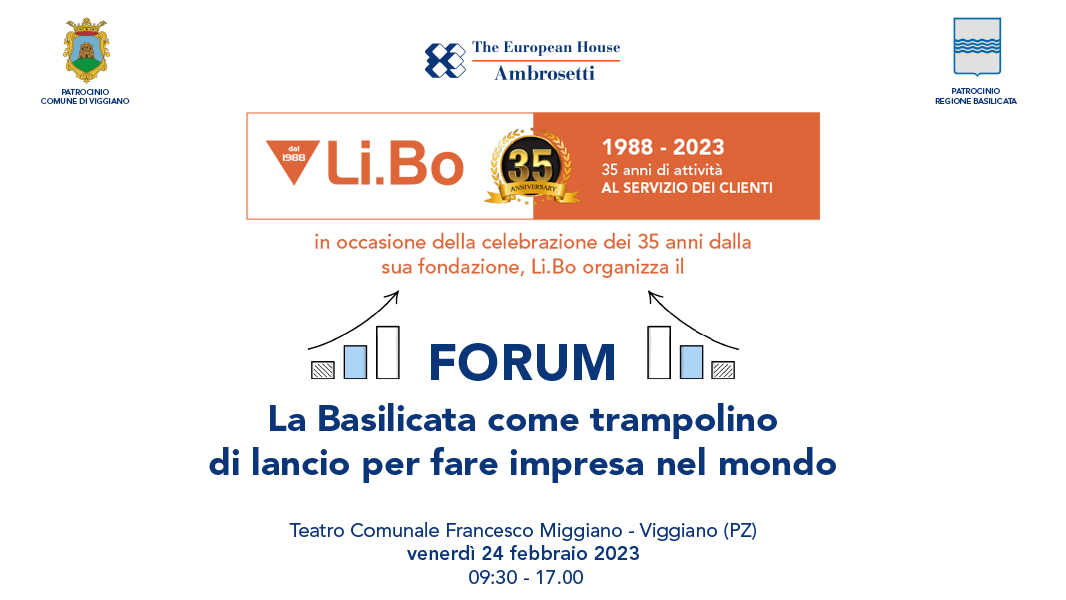 On the occasion of the celebration of
35 years since its founding
,
Li.Bo
, a leading company in the national and international market of industrial and electro-instrumental supplies, is organizing, in collaboration with
The European House Ambrosetti
, a leading company in research, professional updating and strategic consulting, the Forum "
Basilicata as a springboard for doing business in the world
", through which it intends to create a moment of dialogue and reflection on strategies for the growth and revitalization of entrepreneurship in Basilicata, the South and, by extension, our country.
The proceedings will be held on
Friday
,
February 24
,
2023
,
in Viggiano
(PZ), at the
Francesco Miggiano Municipal Theater
(Via Roma, 30), from about 9:30 a.m. to 5:00 p.m.
The Forum also has the
Patronage of the Basilicata Region and the Municipality of Viggiano
.
Through significant scenario data and in-depth single-topic sessions, the Forum will highlight the socioeconomic context of reference and the variables of competitiveness and attractiveness thanks to the interventions of experts, representatives of the territory, stakeholders and representatives of institutions.
With their input, they will talk about resources, innovation, and prospects for young people and businesses arising from the transformations that are affecting the labor market, in the national and international framework, including in light of the opportunities of the NRP and the critical issues resulting from the war in the center of Europe.
The program will cover the following topics:
The National and Basilicata Territory Reference Scenario;
Resources: the economic context and the Italian, European and international energy scenario;
Sustainability and innovation for development and revitalization in Basilicata and the South;
Youth and human and social capital for the resilience of territories.
Confirmed speakers to date include
Michele Albanese
(General Manager, BCC Monte Pruno),
Renato Bocca
(Founder, Li.Bo),
Elena Bonetti
(Member of Parliament; former Minister for Equal Opportunities and the Family),
Amedeo Cicala
(Mayor of Viggiano),
Carmine Cicala
(President of the Regional Council, Basilicata Region; President, Regional Commission of Lucanians in the World.),
Ferruccio de Bortoli
(Editorialist, Corriere della Sera; President, Longanesi & C. ),
Alessandro Galella
(Councillor for Economic Development, Labor and Community Services, Basilicata Region),
Enrico Giovannini
(Professor of Economic Statistics, University of Tor Vergata, Rome; former Minister of Sustainable Infrastructure and Mobility),
Michele Greco
(Pro-Rector with responsibility for Internationalization, University of Basilicata),
Cetti Lauteta
(Head of Practice "Southern Scenario," The European House - Ambrosetti),
Ida Leone
(Director, Assoil School), Aldo Mattia (Dep; Member of the Environment Commission),
Giorgio Metta
(Scientific Director, IIT - Italian Institute of Technology),
Cinzia Pasquale
(President, CFA - Environmental Forensic Chamber),
Gianni Rosa
(Senator; former Councillor for the Environment, Basilicata Region),
Giulio Sapelli
(Professor of Economic History, University of Milan; Researcher and Board Member, Fondazione Eni Enrico Mattei),
Francesco Somma
(President, Confindustria Basilicata),
Isidoro Trovato
(Economic Journalist, Corriere della Sera),
Giorgio Ventre
(Scientific Director, Apple Developer Academy, University Federico II of Naples).
Renato Vito Bocca,
Founder of Li.Bo
:
"We all know that doing business requires certain conditions, such as infrastructure, easy access to credit, certain regulations and fast justice, sustainable level of taxation and, last but not least, domestic demand. We also know that these elements are often missing or lacking, especially in the South. But determination and passion for one's work are able to overcome the obstacles that entrepreneurs find in their path, enabling them to do good business. I am pleased to have grown Li.Bo along this long path, to have evolved it from a local to a national and, in recent years, international offering, involving my children in this entrepreneurial and growth path, who represent the generational change of Li.Bo."
Cetti Lauteta
, Head of Practice "Southern Scenario," The European House - Ambrosetti:
"Those who are familiar with our projects and the method we have chosen to apply in Basilicata know how much we believe in the possibility that dialogue and collaboration between businesses and institutions, but also between local and central institutions, will be increasingly strengthened in this region. In fact, in addition to quality investments, it is dialogue and collaboration that can trigger change, promoting innovation and sustainable economic and social development in the medium and long term. We are very happy to be at Li.Bo's side on this anniversary that reminds us not only how small and medium-sized enterprises are the backbone that keeps Italy on its feet but also how much it matters, in the evolutionary path of a territory, to have confidence in the future and to take advantage of crises to trigger or accelerate transformative paths. Renato Bocca and the story of Li.bo remind us that Lucanians are tireless and silent workers but also that giving up, in today's complex scenario, is not an option for those who love their homeland. That's why this Forum calls not only for a time of "celebration" but also for a time of responsibility, of all institutions, to accompany their companies on a path of growth, as modern and visionary as possible."
Live streaming of the event will be available on the
Gazzetta della Val d'Agri website
and
Facebook page
by clicking here:
FOLLOW THE LIVE STREAM ON THE WEBSITE
FOLLOW THE LIVE STREAM ON FACEBOOK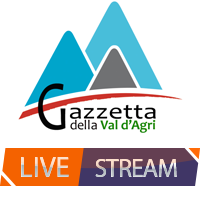 VISIT THE EVENT SITE
DOWNLOAD THE PRESS RELEASE
#35LiBo